Looking forward to painting these colorful farmer's market pumpkins...
Oh how we love pumpkin season. Winter, Spring, Summer, Pumpkin....
We anxiously anticipate it every year
. Trader Joe's Fearless Flyer
Happy Fall Friday! I too love the pumpkin season. Am often stocking up at TJ's so I can enjoy gluten free pumpkin pancakes and muffins year round. Am also eagerly anticipating making my own favorite pie recipe next week: "Santa Fe" Pumpkin Chiffon: Chocolate crust, spicy pecan sprinkle and tequila cinnamon whipped cream...I know. Yum...
Now back to art. Thanks to all the talented artists who joined me for an adventurous mixed media workshop last Saturday! Also special thanks to everyone who supported local artists at the Park Hill Art Club Fall Show last weekend. I sold several recent posted paintings such as my sunlit horse and VW bug--Thank you very much buyers!
A busy art season continues tomorrow where I'm back at Curtis Art Center teaching a one day Artfully Autumn Painting workshop. Am excited to help students with some of my favorite colorful subjects like owls, ravens, autumn leaves, pumpkins, gourds, vines, etc.
Last Friday I visited the fascinating
Wyeth show at the DAM
which featured the families' love of pumpkins, Halloween and other spooky subject matter.
"Pumpkinhead" Self Portrait by Jamie Wyeth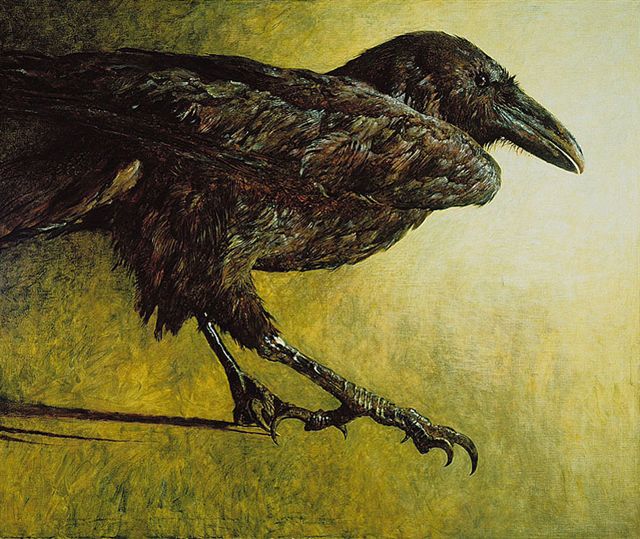 Loved this giant looming raven painting by Jamie Wyeth.
As I look out the studio window today I can see winter looming. But that's OK. Colder weather means I can really get cozy and focus on studio or class painting and build my inventory for the warmer months. If you're looking to stay creatively active this winter come join me and my awesome students in one of my Denver painting group classes I offer on Tues, Wed, or Thurs mornings. We'd love to meet you! For more info
please write to me
or visit my
classes page on my website
. Thanks everyone!